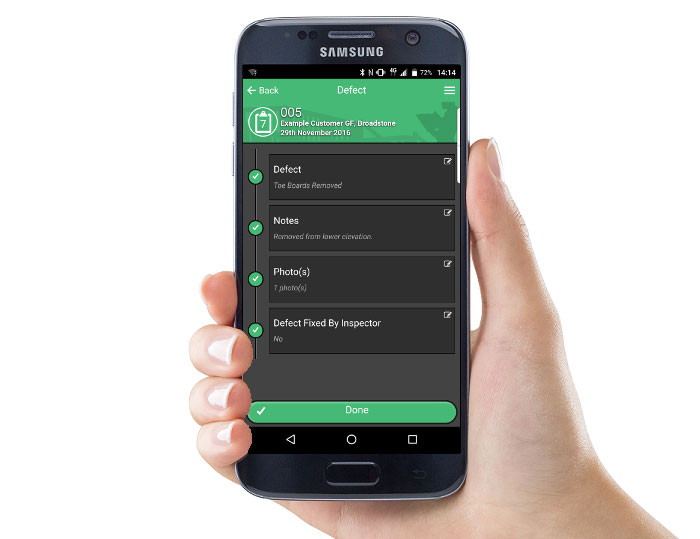 Lyndon Scaffolding have launched a ground-breaking scaffold inspection software – Lyndon Inspection Manager – the only complete scaffold inspection management system.
Developed for Lyndon Scaffolding's customers, this breakthrough software improves and streamlines weekly scaffold inspections – legally required by the 2005 Work at Height Regulations – doing away with the burdensome, time-consuming, and flawed paper record system.
Fully comprehensive, Lyndon Inspection Manager is specifically designed to make the entire inspection process better, faster, and simpler. Providing higher quality inspections, more reliable and improved record keeping, it frees up time for managers to invest in site safety. The end result is safer scaffolding.
Faster, better & safer: It's all about improving the quality of inspections
Lyndon Inspection Manager provides a fast and simple route to add photographs out on site, to record safety information, and capture scaffold faults in a structured format. This speeds up and improves all aspects of inspection process.
Developed in-house by Lyndon Scaffolding and created by an industry leading software expert, Lyndon Inspection Manager enables fast capturing of all of the information required for a scaffold structure, from the start of erection to clearance from site.
Keeping customers informed, making scaffold safer
Inspection records have traditionally sat in a file on the shelf and been largely ignored until there is a problem. Lyndon Inspection Manager allows for real time reporting of issues in a clear and accessible format. Customers can also have full on line access to the scaffold records through the management system.
Records kept safe and accessible for ever
The software covers the entire lifecycle of the scaffold from handover, to inspection, off hire and finally decommissioning in an easy to use, accessible format and uses cloud technology for secure document storage and sharing with customers.
Lyndon Inspection Manager software has been robustly tested on-site by Lyndon Scaffolding on real sites and is designed specifically to save time and make for safer site scaffolds. If there is a problem all parties can be immediately alerted in a clear and concise report.
Finding ways to improve what we offer
Lyndon Scaffolding CEO, Rob Lynch said: "At Lyndon, we are always looking to improve what we offer our customers. Scaffolding is a very conservative trade, we though are not prepared just to carry on doing things the way they have always been done. This software enables us to give a faster, safer, and more reliable service.
"The traditional paper-based system is time consuming, quality is hard to ensure and record keeping a nightmare. Our software removes all of these issues, and offers a wealth of additional features.
"This new software ensures that Lyndon Scaffolding's customers have safer scaffolds – revolutionising scaffold inspection management on site and frees supervisors to dedicate more time to site safety, rather than an endless stream of paperwork. It's about innovation and finding ways to be better in every area of our service."
For more details on the new Lyndon Inspection Manager software, or to discuss UK access requirements, please contact us on 0121 879 7979.