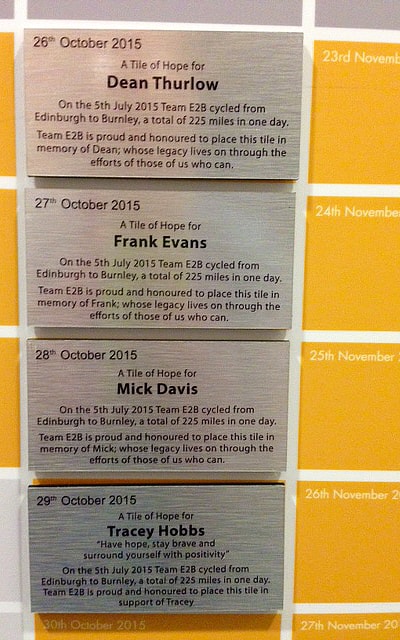 Earlier this year our Regional SHEQ Manager, Ronnie Cheetham and a group of dedicated others cycled an incredible 225 miles – in just one day – going from Edinburgh to Burnley.
And the team of hardcore cyclists raised an incredible £13,000 for the Brain Tumour Research charity, which we at Lyndon were happy to add £2,000 too (along with a further £350 from the guys at Fiddlers Ferry Power Station, where Lyndon scaffolding is on-going).
Now "Team E2B" have been invited to place four tiles on the Brain Tumour Research "Wall of Hope" at the Blizzard Institute, Queen Mary University Hospital, Whitechapel, London.
Ronnie went along and placed a plaque on the wall. He said: "This was rather emotional, even for a roughty, toughty, baldy scaffolder like me."
Lyndon Scaffolding MD Rob Lynch said: "We're proud of Ronnie and all who took part in the cycle ride for the Brain Tumour Research charity.
We are so pleased our Lyndon lads and lasses chose to act and raise money like this, helping us to add our support to these great charities. Amazing acts like this are the very essence of charity. And we are always happy to help support our workers' endeavours as part of our on-going efforts for corporate responsibility."
This recent ride follows on from Ronnie & others' Land's End to John O'Groats cycle ride for Teenage Cancer Trust in September 2014.